Weihnachtskarte Nr. 11 / Christmas card Nr. 11
Hach wie einen so eine Magenverstimmung doch aus der Bahn und dem Zeitplan wirft…
Nur noch drei Wochen bis Weihnachten und ich möchte noch soooo viel tun. Kann mal einer die Zeit um einen Monat zurück drehen??? Aber den Stress macht man sich ja selber, richtig? Also ruhig bleiben und eins nach dem anderen.
Hier erst mal meine nächste Weihnachtskarte, auch wieder mit nicht-typischen Farben. Mir gefällts.
How a indigestion can bring you in time trouble…
Only three weeks until Christmas and I planned sooo many things. Can someone please buy a month for me? Anyway the stress is selfmade, right? So, stay calm and do one thing at a time.
For now, here is my next Christmas card, again with non traditional colours. I like it.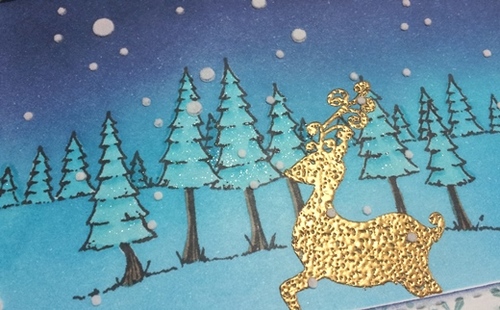 Man sieht sogar den Wink of Stella auf den Bäumen! 😀
Even you can see the Wink of Stella on the trees! 😀
Damit wünsche ich euch eine schöne Wochenmitte und freue mich, wenn ihr wieder mal vorbei schaut. Bis bald =)
I wish you a happy midweek and would be glad if you hop over again at another time. See you =)
Challenges
Cupcake Inspirations – #338
IN{K}SPIRE_me – #226 Winterwald